Sunday, November 7, 2010 at 9:40PM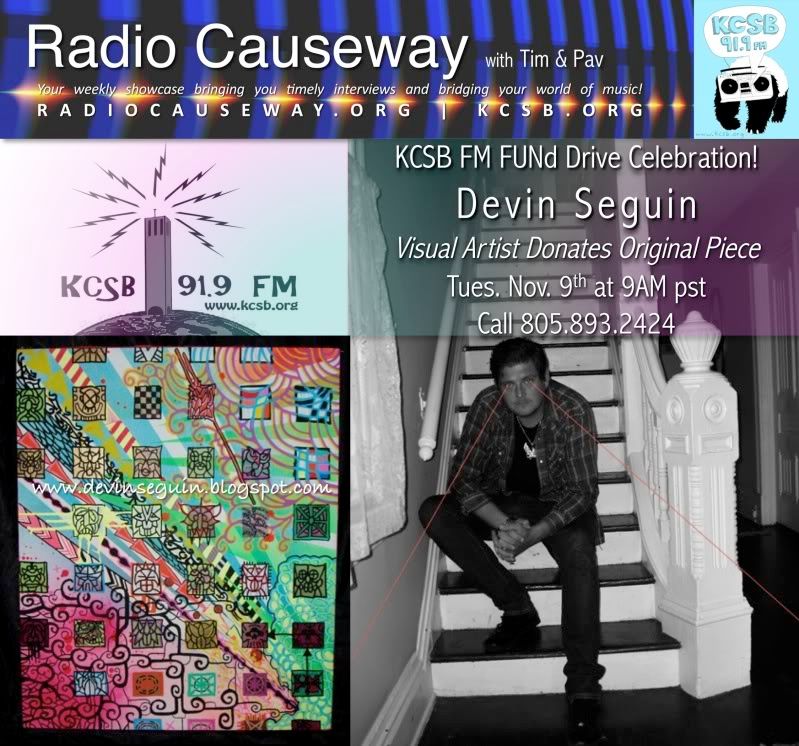 For the Radio Causeway KCSB FUNd Drive Celebration, visual artist Devin Seguin will be in studio speaking with Pav & Tim about his artwork and the projects he as been involved in. Devin Seguin has contributed artwork to the surfboard maker Backyard Boards (BYB), and bands Shock & Awe, The Q, and Candye Kane. In honor of the KCSB FUNd Drive, Devin has donated an original one of a kind work (pictured above) titled 'Well, Well, Well...' that will be available for only $250 during Radio Causeway from 9-10AM on November 9th! Call 805.893.2424!
There will also be special gifts (gift certificates to the Mercury Lounge in Goleta and Warbler Records in Santa Barbara) for individuals that call in and donate at least $25 for students or $50 for non students! We will also be spinning tracks from cds that will also be available for $25 students/ $50 non student level!
Everyone that donates during the show, no matter the amount will also receive the limited Radio Causeway Stickers!
*specific thank you gifts are available while supplies last.
Plus the Mullet's Yeah! Free Music! and Strange News.
This Mullet's Yeah! Free Music! pick of the week is "Bubuia" by the Brazilian artist, Ceu.
Listen Live 9-10AM on KCSB FM 91.9 in Santa Barbara or KCSB.ORG and help support Non Commercial Community Radio!
Call 805.893.2424!

Timothy
|
Comments Off
|